Qualitex De Leon RV Captain Chair, Ultimate Leather, Manual Lumbar, Macadamia & Desert Taupe, Fawn, or Cloud Gray

Starting at
$754.00
List Price

$954.00
(21% Savings)


Ships in
1-2 Weeks


Ships in
24 Hours!


Ships in
3-4 Weeks

▪ Multi-position manual lumbar backrest with handle.
▪ Ultimate leather bolstering with precision piped stitching.
▪ High-resilience foam layers with sinuous springs.
▪ Folding padded armrests for easy movement.
▪ Full 360 wrapped Ultimate Leather skirt to complete the look.
▪ 10" deep rear storage pocket.
▪ Slide tracks for mounting base included.
▪ Easy to clean and maintain the quality for many years.
▪ Jungle tested for heat and moisture resistance.
▪ Grade 4 colorfast to protect against sun fading.
▪ 3 year limited warranty on seat frame construction.
▪ Available in three color choices.
▪ Express shipping available.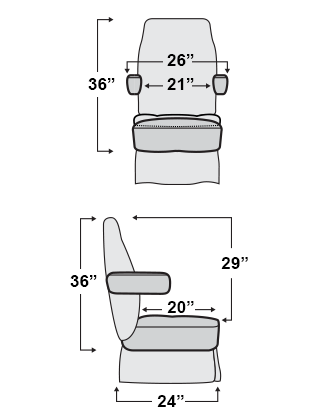 Ready to relax to the max on your next trip? Designed to merge craftsmanship with the ultimate in comfort is the Qualitex® De Leon RV Captains Chair. Equipped with a multi-position manual lumbar backrest, soft leather bolstering with precision piping and high-definition foam layers with pocketed springs, this luxury RV captains chair helps you easily update your vehicle's interior.

When it comes to the materials and construction of the De Leon Captains Chair, Qualitex spared no expense on making this the best captains chair for upgrading your RV on the internet. Ultimate Leather is a luxurious leather that is valued for its function and durability. For value, it quite simply can't be beat. In addition, this material is incredibly durable and easy to clean. It provides a strong sense of support that will last, while proving highly resistant to stains and spills.

Whether you're changing out the driver seat or all of your RV furniture, Qualitex® products are designed to elevate all of your recreational pursuits. Our team is committed to always thinking about your next journey — pushing the possibilities of our products and services, all to better your time spent outdoors, whenever, wherever, for years to come.

PA-10013 DR-10013
California Residents: WARNING, Proposition 65 Notice

Great Service from Richard Valdez Review by King Shaw

Bought a driver's deLeon captain chair. Thanks!
By the way, love the seats! (Posted on 9/27/17)

Recieved my order a weel early! Review by Richard L

My new captains chairs came early. They look and feel very comfy. I ordered the drivers seat with the better padding. Honestly I could tell them apart.

I didn't realize it but my old pedestals wobble. So I called today to place an order. Clara was very helpful. I could tell right off that she knows the products you sell. She described everything to me and answered all my questions. I was very happy with the whole process, mainly Clara's professionalism.
I ordered two pedestals and two new seat belts.
Thank you,
Richard Luetke (Posted on 9/27/17)

Great selection Review by Coby G

I was in need of changing my captains chairs in my RV. I called and spoke with Clara. She did a great job and was able to show me several that would fit for my application. I was very surprised with the amount of chairs they offered. I'm planning a trip to look at their facility and will review again after. (Posted on 9/27/17)

these guys are crazy helpful Review by johnny

I ordered captain chairs, dinette, couch and chair. Absolutely amazed, at the quality, I took a huge leap of trust, to order without actually seeing or touching the product , online!! Not to mention I live in Canada!! Anna walked me through the whole process very proffessionaly and politely,Putting up with my annoying , endless questions!! :) Your Awesome!!!! I still haven't finished my reno's on my 97 winnebago adventurer!! I will submit a video or pictures of before and after if I am allowed!!!!! Quality at a FAIR price!!! Happy Canuck!!! (Posted on 9/26/17)

Great Product and Customer Service Review by Wendell T

Our new RV Captain's Seats shipped when they said they would, and arrived via FedEx in only 4 days from S Cal to Huntsville, AL. They were packaged very well and received no damage. I installed them a couple of days ago, and they look really good and are quite comfortable.

I had a question about exactly to install the other arm on the seats. I e-mailed their CS, and John Lasso responded quickly with a YouTube link for the procedure. (Posted on 9/26/17)
Write Your Own Review